» Service and Repair



» Buy Now



» Tech Tips



» Special Tools



» Service Manuals



» Fuel Injectors



» Tracker Valves



» Fuel Rail Assemblies



» Optimax Air Compressors



» Tune-Up Kits



» Contact



» Home


DFI Air Compressors
The Optimax Air Compressor is the "secret" to the Optimax's excellent performance.
The Air Compressor builds about 80 PSI of air pressure in the fuel rails.
This is balanced by an air pressure regulator to be 10 PSI less than the fuel pressure.

Any drop in air pressure will dramatically reduce engine performance.

The Air Compressor is belt driven. The belt is held tight by use of a Belt Tensioner.
The belt and tensioner should be inspected on a regular basis for wear or looseness.

We recommend the belt be replaced every 100 to 200 hours or sooner if required.
If the belt breaks or if the compressor fails the engine will NOT RUN.

Most Optimax engines have two small oil lines exiting the air pump (see the yellow covered fitting in the image below).
There are two small white inline oil filters in these lines.
These lines allow oil to pass through the pump and to the top and bottom crank bearings.
These oil line filters should be changed every 100 hours or whenever there is a compressor failure.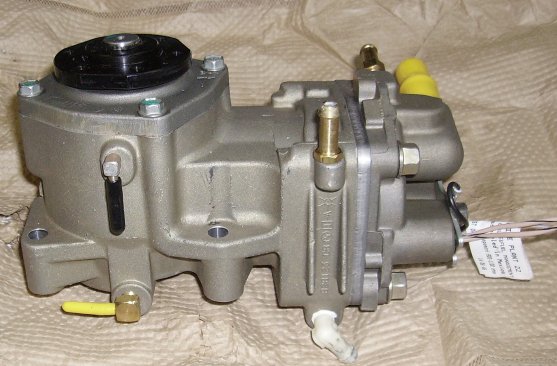 Oil is fed to the compressor from the electric oil injection pump located down on the front starboard side of the motor.
(see the black fitting cover in the image above).

The Air Compressor is water cooled. The compressor has it's own alarm temp sender in the compressor head.
If the compressor overheats it will send off an alarm and put the motor into Guardian Mode.

Compressors can fail.
When a compressor fails the engine runs bad or does not run at all.
In many cases debris from the compressor passes through the air lines into the fuel rails.
In some cases the debris will contaminate the Air Injectors.
All lines, rails and air injectors must be meticulously cleaned and/or replaced after a compressor failure.

Different model Optimax motors use different Air Compressors.



854333T11 changes to 8M0050654 Compressor $1369.00
Fits 115 DFI (3 cyl)(1.5L)(0T801000 thru 1B226999)
Fits 115 DFI (3 cyl)(1.5L)(1B227000 thru 1B417701)
Fits 115 DFI (3 cyl)(1.5L)(1B417702 and UP)
Fits 115 Pro XS (3 cyl)(1.5L)(1B751825 and UP)



899113A03 changes to 8M0060053 Compressor $971.00
Fits V115 DFI (6 cyl)(2.5L)(0G96055 thru 0T178499)
Fits V135 DFI (All)
Fits V150 DFI (All)
Fits V175 DFI (All)



828123A5 Compressor $3000.00
Fits 200 DFI (0G386496 thru 0G589999)



828123A23 changes to 8M0063279 Compressor $992.00
Fits 200 DFI (0G590000 thru 0G760299)
Fits 200 DFI (0G760300 thru 0G960499)
Fits 200 DFI (0G960500 thru 0T178499)
Fits 200 DFI (0T178500 thru 0T598999)



828123T32 changes to 8M0060052 Compressor $956.60
Fits 200 DFI (0T599000 thru 0T800999)
Fits 200 DFI (3.0L)(0T801000 thru 1B417701)
Fits 200 DFI (3.0L)(1B417702 thru 1B504988)
Fits 200 DFI (3.0L)(1B504989 and UP)
Fits 200 ProXS DFI (3.0L)(1B504989 and UP)
Fits 200 DFI DTS (3.0L)(0T980000 thru 1B417701)



828123T33 changes to 8M0060051 Compressor $992.00
Fits 250 DFI (1B504989 and UP)
Fits 250 PROXs DFI (3.0L)(1B504989 and UP)

Not sure which compressor is right for you?
Need a belt, pulley, tensioner or any other part?
Simply email us with your engine serial number and we will llok up the exact compressor for your motor.






This site is © Copyright AirInjectors.Com 2004-2010, All Rights Reserved
Mercury Marine and Optimax are trademarks of Brunswick Corp.