» Service and Repair



» Buy Now



» Tech Tips



» Special Tools



» Service Manuals



» Fuel Injectors



» Tracker Valves



» Fuel Rail Assemblies



» Optimax Air Compressors



» Tune-Up Kits



» Contact



» Home


Optimax Fuel Rail Assemblies
Fuel Rails are simple yet they can fail.
The most common cause of failure is from corrosion and/or water intrusion.
Only the Port Fuel Rail is water cooled but in the event of a failure, water
will pass through to the starboard fuel rail.
A bad Air Compressor head seal can force water into the fuel rails.
This moisture can ruin the DFI Air Injectors and rails.

Flushing your Optimax with fresh water after every use will drastically
reduce the chance of water getting into your fuel rails.

There are a few different types of Fuel Rails depending on your engine serial number.
All fuel rails come with the Fuel Injectors and the Pressure Regulators and Tracker Valves
preinstalled at the factory.
They do NOT come with the Air Injectors.

In the event that you have a faulty Pressure Regulator (mounted on the Port fuel rail),
you will have to by a new fuel rail. Mercury no longer sells the Pressure Regulators as
a replacement item.

Now... here is the "tricky" part.
Mercury used to sell the fuel rails separately.
For some models you can still buy a port rail and/or a starboard rail separately.
For most models, if you try to purchase the Stb rail the part number will be NLA (no longer available) and
Mercury will tell you to purchase another part number such as 895752T05.
Careful! This alternate part number will be a Complete Fuel Rail Set (pair) which includes
BOTH the Port and Starboard fuel rails, fuel injectors and hoses.

We can help make sure that you order the correct rail(s).
Simply email us your engine serial number and we will check for the
latest rail purchase options, price and availability.

Most of the Optimax V6's now use 895752T05 Fuel Rail Pair for $1068.00
This is a fantastic deal when you consider that you will be getting $1045 worth of fuel injectors and
over $600.00 of special hoses.

Some fuel rails cost as much as $1300 EACH.

Your style of rail may differ in design and price.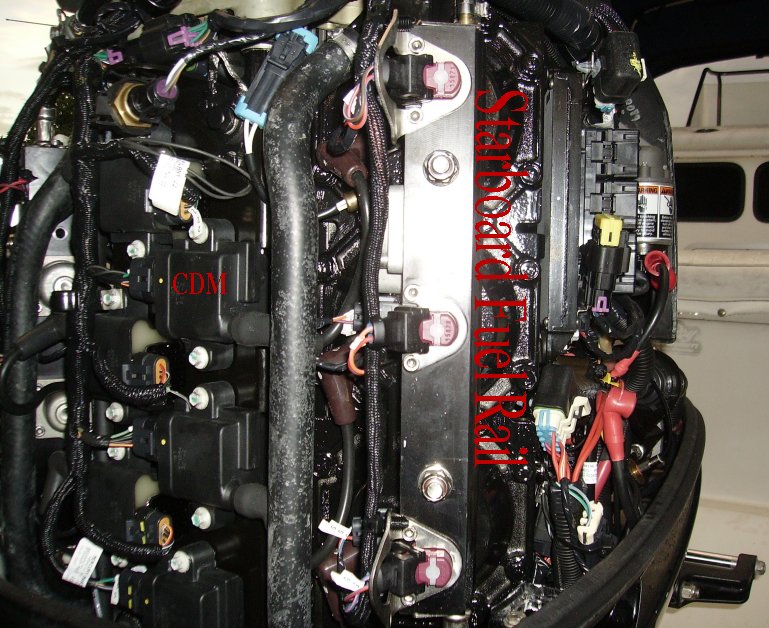 This site is © Copyright AirInjectors.Com 2004-2010, All Rights Reserved
Mercury Marine and Optimax are trademarks of Brunswick Corp.